---
About the Red Bank New Jersey Area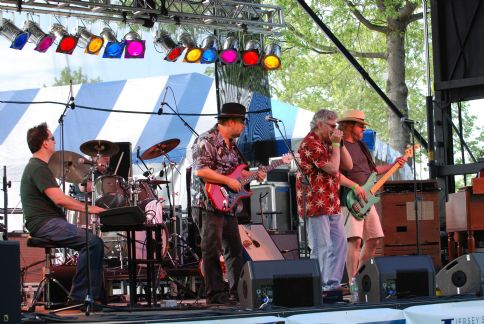 Entertainment at Marine Park
Welcome to Red Bank - the gateway to the two-river area. Red Bank embodies the best of all worlds - fine arts and galleries, world class shopping, gourmet and casual dining, premier real estate & homes both residential and commercial, theatres and performing arts, diverse cultures, the finest lodging and magnificent natural resources. What Red Bank also boasts are some of the most talented, hard working and energetic people one could ever hope to meet.
Relocation to Red Bank, New Jersey
Historic Red Bank, New Jersey, is a truly wonderful borough for relocation. A setting close to the Atlantic Beaches and diverse cultural opportunities make Red Bank homes an inviting chance to participate in a thriving community. Located near the Garden State Parkway, as well as the ocean, convenience is a given, and the sparkling lights of New York City beckon at just an hour away.
Red Bank Community
With a setting on the scenic Navesink River, the borough is home to a number of community events, and with its beautiful historic properties, historic preservation is high on the list of the community. The historic Count Basie Theater offers residents musical concerts, performances by top notch artists, free films, a Jazz Academy and a Performance Academy with classes and workshops for aspiring actors of all ages. Moreover, the Count Basie Theater offers Rock Band Programs for all ages, giving opportunities for music and cooperation.
Innovative learning is part of the educational opportunity for your children in this community. Red Bank Regional High School is highly ranked; charter and private schools are also found here. Additionally, Parks and Recreation offers a variety of classes and sport activities, including basketball, football and soccer games. Challenges, such as the Mayors Wellness Campaign, are additionally part of the community spirit found in the borough.
Attractions and Activities
Proximity to the Gateway National Recreation Area is just one advantage of living here; sports such as biking, hiking, fishing, kayaking or exploring Civil War-era forts are just some of the activities. Within the borough, ice sailing, summer sailing and boating are sports that are quite popular, with the Navesink River nearby.
Enjoy a Farmers Market, Sundays at the Galleria, where fresh New Jersey produce and more can be bought. Galleries, unique shopping, an art alliance, and a choice of fine restaurants are all within the town. Live theater and an exciting art cinema add to the cultural offerings here. The New Jersey Museum of Contemporary Art also holds exhibits at the Galleria and downtown area. Purchasing real estate in this borough offers so much in culture and recreation.
Events
The 65th Annual Halloween Parade happens in October, with costumes, prizes and fun for all. October is time for such events as Jersey Shore Ghost Tours.
November brings a visit from Santa at the Little Silver Train Station. Horse and classic carriage rides, a tree lighting with rock and roll and more are all part of the festive Holiday Season here.
Red Bank homes offer so much to families as well as convenience to the shore and the city. Real estate and relocation to Red Bank are a great investments in a wonderful lifestyle.
Red Bank NJ Homes
|
Jersey Shores Homes
|
Monmouth County Homes
|
Middletown NJ Homes